CONTACT US
+632 8888-3055
+632 8888-3955
CONTACT US
Manual on Corporate Governance
Integrated Annual Corporate Governance Report
Board Committees and Charters
Company's Policies

2019 SMPC Annual and Sustainability Report
(16.6MB)
view
Corporate Governance
> Company's Policies > Safety, Health and Welfare Policy > Training and Development
Training and Development
Organizational Development
Our training programs are designed based on the competencies and talent requirements of our employees and workforce.
Semirara's talent development activities include trainings, seminars and workshops such as skills upgrade, leadership, short management courses, ISO quality management principles, EHS, risk awareness, sustainability, among others. EHS initiatives include, among others, Office Safety and Ergonomics to orient staff regarding workplace safety, and Basic Occupational Safety and Health training. Professional development programs also include technical trainings of engineers outside the country.
Management, Environment, Health & Safety (EHS) and Professional Development categories are designed to meet specific target objectives towards people and organizational excellence.
CORPORATE OFFICE WORKFORCE TRAINING DATA 2018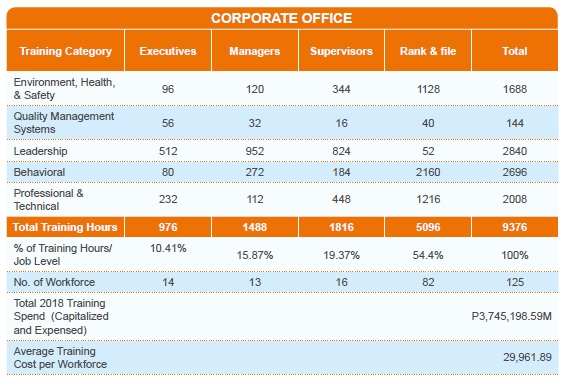 MINING WORKFORCE TRAINING DATA 2018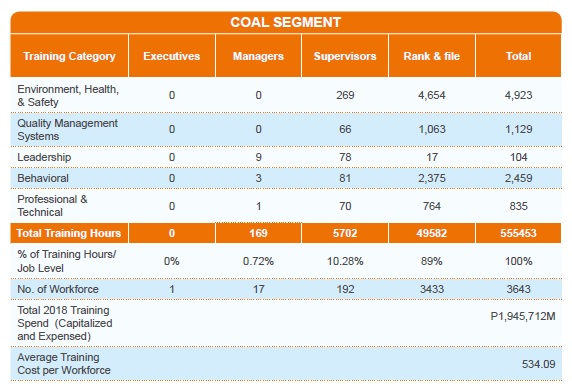 POWER WORKFORCE TRAINING DATA 2018

SEM-Calaca Power Corporation and Southwest Luzon Power Generation Corporation