CONTACT US
+632 888-3055
+632 888-3955
CONTACT US
News Articles
Reports and Presentations
News
> DENR to suspend Semirara environment certificate
DENR to suspend Semirara environment certificate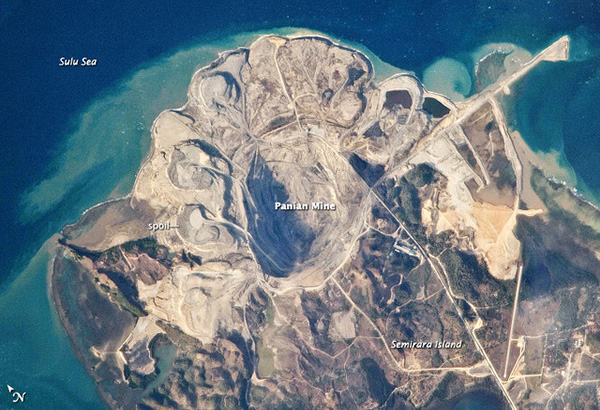 BIGGEST PIT. The Panian Mine operated by Semirara Mining Corp is the biggest open-pit coal mine in the Philippines. Image from NASA
MANILA, Philippines - The Department of Environment and Natural Resources (DENR) will suspend the environmental compliance certificate (ECC) issued to the Semirara coalmine project following the landslide incident that resulted in the death of nine coal miners.
DENR Undersecretary Jonas Leones said the suspension is to ensure that such incidents will not happen again.
"We'll review conditions indicated in the ECC. It is possible that the conditions set there don't anymore match with the physical condition of the area," said Leones, adding they might need to impose additional safeguards.
As to the cease-and-desist order (CDO) earlier issued by the DENR Region 6 office, Leones said that it shall be in effect until the respondent implements approved mitigation measures."
The experience brought about by this incident will result in a more focused evaluation on risk as well as safety in addition to impacts to the environment as commonly perceived," he said.
Leones, also director of the DENR's Environmental Management Bureau (EMB), also said that there must be strengthened coordination with other government agencies such as the Department of Labor and Employment concerning working conditions in the site, and the Department of Energy (DOE) for coal mine safety rules and regulations.
Semirara, a unit of DMCI Holdings Inc., is the country's largest coal miner.
Source: Philippine Star