CONTACT US
+632 888-3055
+632 888-3955
CONTACT US
News Articles
Reports and Presentations
News
> Semirara Mining to Spend USD400M for Calaca Power Plant Expansion
Semirara Mining to Spend USD400M for Calaca Power Plant Expansion
Semirara Mining Corp., the Philippines' largest coal producer, plans to spend 0 million to boost power plant capacity, forecasting that two-thirds of profit will come from generation in three years.
The company may sign a syndicated loan for 70 percent of the cost of the expansion as early as next quarter, Chief Executive Officer Isidro Consunji said in an interview.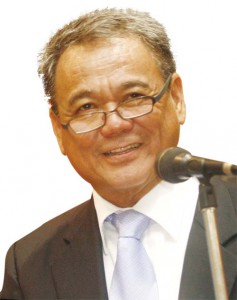 ISIDRO CONSUNJI
Fresh supply is being added as the Philippines saw power demand rise by 50 percent in the 10 years to 2012, more than three times the 16 percent increase in generation capacity over the same period, according to government data.
"It's more logical to grow the power business," Consunji said in a June 20 interview. "It's simpler to run and is more profitable. We do what's easy for us and we forget what's not."
The expansion will increase the Calaca coal-fired power plant's capacity by 350 megawatts to 1,200 megawatts, Consunji said. It bought the plant from the government in 2009 for 2 million.
Power accounted for 54 percent of Semirara's revenue in 2013, compared with six years ago when almost all sales came from its coal business, according to data compiled by Bloomberg. Semirara is 56 percent owned by DMCI Holdings Inc., a company that's also involved in construction, infrastructure, water and real estate. Consunji is president of DMCI Holdings.
As power demand increases, Semirara by 2015 may stop exporting the coal it produces from its mine in Antique province in central Philippines, Consunji said. In 2013, it exported almost half of its 7.63 million metric ton output.
Profit, excluding one-time items, rose 19 percent to P7.52 billion in 2013, For this year, profit from mining may be more than P3 billion, Consunji said. He couldn't give a forecast for earnings at the power business.
"For every one peso you make in mining, for the same amount of coal, you make two pesos in power," Consunji said. "Eventually, only a third of income will come from mining, and two thirds from power three years down the road."
Consunji anticipates a robust economy, saying 6 percent growth in gross domestic product is "easily attainable" in next five years, and possibly more than 8 percent, if projects under President Benigno Aquino administration's infrastructure program are built as scheduled. The Philippine economy expanded 7.2 percent in 2013, the second-fastest in Asia next to China, and is poised to remain among the world's five fastest-expanding until 2016, according to economists surveyed by Bloomberg.
Read more: http://www.mb.com.ph/semirara-mining-to-spend-400m-for-calaca-power-plant-expansion/