CONTACT US
+632 888-3055
+632 888-3955
CONTACT US
News Articles
Reports and Presentations
News
> 2013 PSE Bell Awards Finalist
2013 PSE Bell Awards Finalist
Semirara Mining Corporation is among the Ten Finalists of Philippine listed companies given recognition by The Philippine Stock Exchange in 2013 PSE Bell Awards for Corporate Governance. The awards ceremony took place on Nov 19, 2013 Tuesday at the Makati Shangri-la Hotel and was attended by IAC, VAC, CCG and HMC.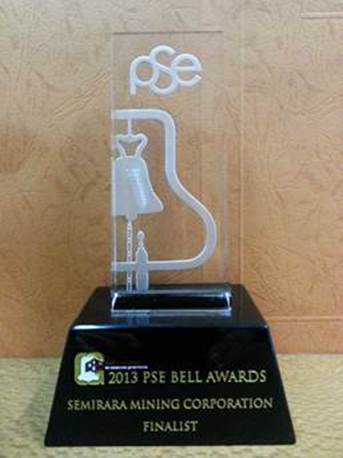 The Bell Awards is a recognition given by PSE to publicly-listed companies and trading participants that adhere to high standards of corporate governance. Public firms are evaluated on how well they adopt and incorporate the PSE's Corporate Governance Guidelines for Listed Companies. PSE also takes note of listed companies' compliance to Listing and Disclosure rules.
On its second year, the Bell Awards is the only such CG awards given out by the PSE to outstanding listed companies and trading participants, whose corporate governance practices are likewise at par with international standards and best practices.
PSE defines corporate governance as "the framework of rules, systems and processes that governs the performance by the board of directors and management of their respective duties and responsibilities to the stockholders, with due regard to the stakeholders."